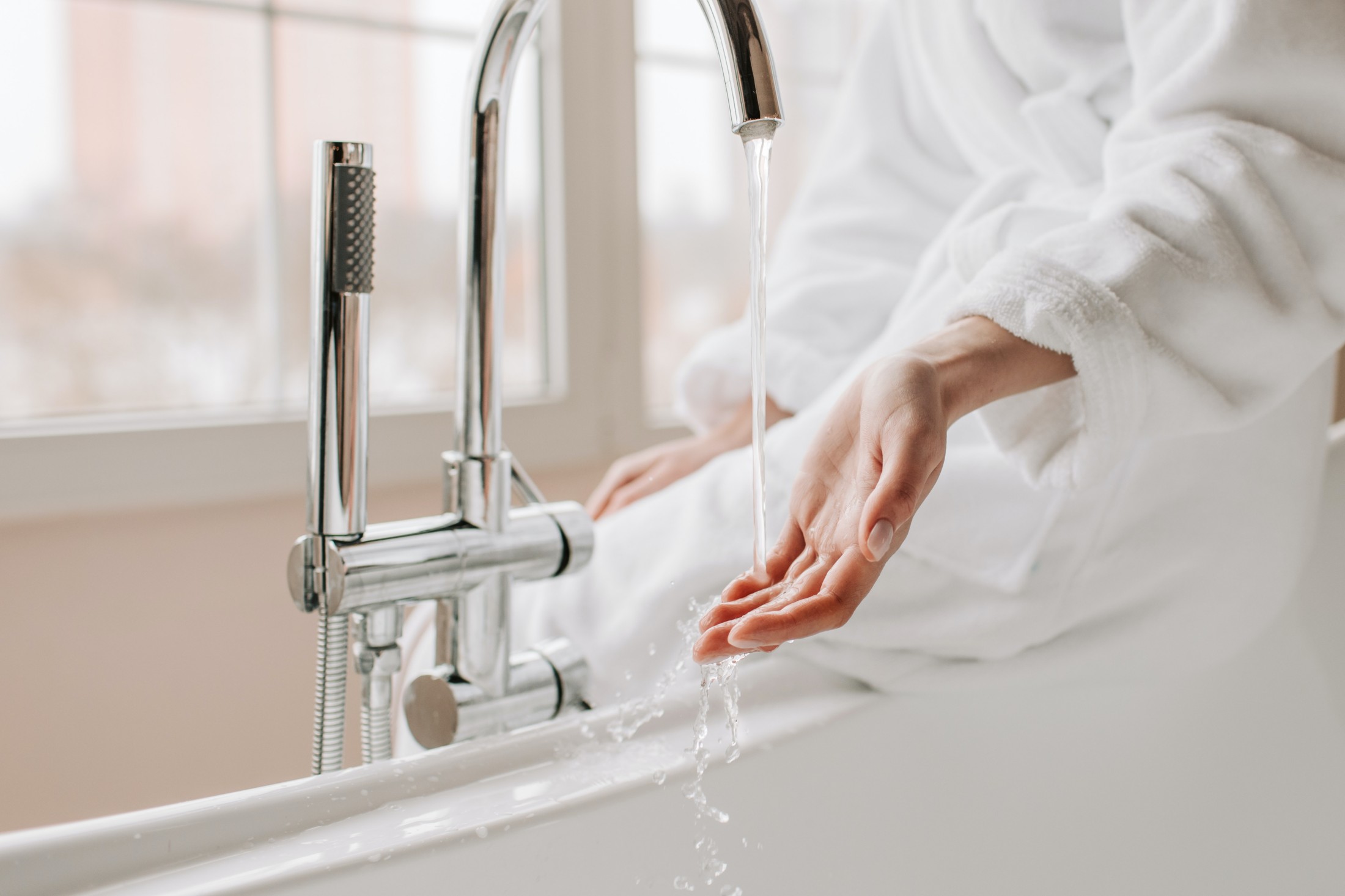 The era of Smart Home technology is revolutionizing the way we live, interact, and manage our homes. Smart Home technology is all about automation and intelligent control, allowing homeowners to manage various household appliances, security systems, lighting, heating, water heater, and more through their smartphones or other smart devices.
Whether it's adjusting the thermostat while you're away or receiving notifications about your home's security, Smart Home technology brings a new level of convenience, efficiency, and peace of mind.
Among the advancements in Smart Home technology, the Voltex Hybrid Electric Heat Pump Water Heater stands out as an epitome of innovation and sustainability. Combining the power of a heat pump with electric heating, Voltex provides an energy-efficient solution to hot water needs, saving up to 73% on energy costs.
With a Uniform Energy Factor (UEF) rating of up to 3.45, Voltex meets ENERGY STAR® qualifications and offers homeowners a green choice for their hot water system.
Taking it to the next level, Voltex has introduced the integration of iCOMM™, a smart connectivity feature that allows homeowners to remotely control and monitor their water heater's settings and performance.
Through the free A. O. Smith app, users can adjust the Voltex Hybrid Electric Heat Pump Water Heater from anywhere, receive real-time alerts and notifications about potential leaks or maintenance requirements, and even choose between various operating modes to match heating requirements to environmental conditions. This technology not only adds a layer of convenience but also ensures that the Voltex Water Heater operates at peak efficiency, adapting to the unique needs of each household.
Smart Control with iCOMM™

Controlling and Monitoring Remotely
The Voltex Hybrid Electric Heat Pump Water Heater, equipped with iCOMM™ technology, brings unparalleled control to homeowners. Whether you're at work or on vacation, controlling your water heater has never been more accessible.
With the A. O. Smith app on your smartphone or tablet, you can easily adjust the temperature, switch between operating modes such as Efficiency, Hybrid, or Electric, and even activate Vacation mode to reduce operating costs while you're away.
Monitoring the performance and status of your water heater is also at your fingertips, providing insights into energy usage and system health.
Real-Time Alerts and Notifications
Imagine being notified of a water leak before it turns into a catastrophe, or receiving a maintenance alert before an issue becomes a significant problem.
With iCOMM™, you're connected to your Voltex Hybrid Electric Heat Pump Water Heater in real-time. Alerts and notifications can be set up to inform you of potential leaks, maintenance requirements, or any unexpected changes in performance.
This proactive approach not only saves you from unforeseen troubles but also ensures that your water heater is always functioning at its best.
How iCOMM™ Contributes to Efficiency and Convenience
Smart control isn't just about remote access; it's about making your life easier and more efficient. By integrating iCOMM™ into the Voltex Hybrid Electric Heat Pump Water Heater, you're gaining a tool that helps you optimize energy usage, adapt to different environmental conditions, and personalize your hot water system according to your lifestyle.
Want to save more energy? Switch to Efficiency mode. Need hot water quickly? Utilize the Electric mode. Planning a long trip? Activate Vacation mode.
iCOMM™ empowers you to make these decisions effortlessly, contributing to both cost savings and environmental sustainability. The convenience of receiving real-time alerts ensures that your system is well-maintained and reduces the risk of unexpected issues.
Features of Voltex Hybrid Electric Heat Pump Water Heater
Energy Efficiency
The Voltex Hybrid Electric Heat Pump Water Heater is designed with energy conservation in mind. With a Uniform Energy Factor (UEF) rating of up to 3.45, it stands out as an ENERGY STAR® qualified product, meaning it meets strict energy-efficiency guidelines set by the U.S. Environmental Protection Agency.
By using advanced heat pump technology, it can offer potential cost savings of up to 73%, making it one of the most cost-effective options on the market. This efficiency translates into noticeable savings on your energy bills and a quicker return on investment, typically within just 2-3 years.
Leak Protection Technology
Water leaks can be devastating, causing damage to your home and possessions. Voltex's innovative leak protection technology helps mitigate this risk.
Equipped with smart sensors, the water heater alerts you if a leak is detected, giving you the opportunity to address the issue before it escalates. For even more security, it is compatible with an automatic water shutoff valve accessory, providing an additional layer of protection.
This technology not only safeguards your home but also brings peace of mind.
Better Performance in Cold Climates
While some water heaters may struggle in colder environments, Voltex excels. Thanks to its Hybrid mode, which automatically adjusts between the compressor and heating element depending on heat requirements, Voltex ensures consistent hot water availability even in frigid temperatures.
This adaptability means you can rely on it all year round, regardless of the weather conditions outside.
Eco-Friendly
In today's world, being environmentally conscious is more important than ever. The Voltex Hybrid Electric Heat Pump Water Heater embodies this ethos, utilizing a compressor and R134a refrigerant to absorb ambient heat from the surrounding air.
Unlike traditional water heaters that rely on fossil fuels, Voltex's technology significantly reduces greenhouse gas emissions. It's not just a choice for convenience and savings; it's a choice for a greener future.
The Voltex Hybrid Electric Heat Pump Water Heater is more than just a hot water solution; it's a testament to innovation and responsible technology.
Whether it's the remarkable energy efficiency, the proactive leak protection, the robust performance in cold climates, or the commitment to environmental sustainability, Voltex promises a holistic approach to water heating. It aligns perfectly with modern demands and sets a new standard for what a water heater can and should be.
How the Voltex Water Heater Fits into the Smart Home Ecosystem
The Voltex Hybrid Electric Heat Pump Water Heater's iCOMM™ technology allows for seamless integration with other smart home devices. This connectivity brings the water heater into the broader smart home ecosystem, where it can interact with thermostats, smart plugs, and even voice control systems like Amazon Alexa or Google Assistant.
Imagine adjusting your heat pump water heater settings through voice commands or setting schedules that align with your daily routines. The possibilities are vast and open up new dimensions of convenience and control.
As technology continues to advance, the future of smart water heating looks promising. The Voltex Water Heater is leading the way, showcasing how innovations in heating technology can blend with smart home systems to enhance our lives. It's not just about saving energy or making life more comfortable; it's about reshaping the way we interact with our homes.
As more appliances adopt smart technology, the cohesion between different devices will become more refined, creating a truly interconnected home where every element works in harmony.
Schedule an appointment with our expert team at HeatPumps.ca today, and let us guide you towards a smarter, more sustainable way to heat your home.