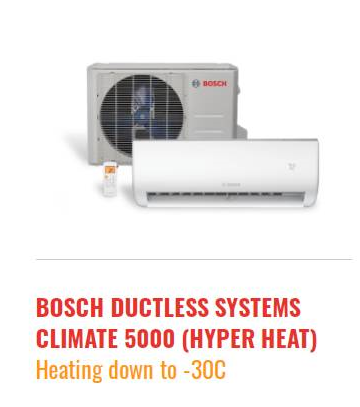 Bosch Offers condensing, solar thermal, heat pumps, and combined heat and power systems across multiple markets, Bosch Home appliances simplify daily life with their dependable, aesthetically attractive, and easy to use products
Evaluating The Bosch Climate 5000 Series
The Bosch Climate 5000 Heat Pump is a ductless heating and air conditioning system that is designed to accommodate small to large sized homes, while being cost efficient for electricity bills.
Heat and cooling efficiency are both A++ on Bosch Climate 5000. Filter systems eliminate up to 95% of dust, smoke and pollen. Its products are designed to be quiet and compact. Climate 5000 uses an energy-saving refrigerant, R32.
This Bosch single split unit has an indoor unit size of 4 depending on the capacity. Commercial units with capacities of up to 14kW come in wall-mount boxes, cassettes, and ducted units. The multi split unit can have as many as five indoor wall-mounted and cassette units. Home and office use is possible with this type of unit.
Enhanced Home Comfort
Inverter drive technology allows us to achieve up to 25 SEER in our ENERGY STAR rated systems. The Climate 5000 Ductless System maintains a consistent level of temperature and humidity at a low level of noise.
Climate 5000 Heat Pumps can be easily installed in the majority of environments. Ductwork is not necessary, making renovations less messy. Connecting the indoor and outdoor units is done through a 3-inch hole in the wall where electricity, refrigerant, and condensate drain lines are connected. Therefore, it is less intrusive and easier to install.
Achieving A Better Indoor Air Quality
Its several filters prevent dust and odors from entering the air. It is also easily maintained so dust, pollen, mites, and other particles are trapped, improving indoor air quality.
We offer easy-to-use, aesthetically pleasing, and state-of-the-art domestic hot water solutions from the Bosch Group.
Key Features of the Bosch Climate 5000 Series
Featuring easy installation, maintenance, and cleaning, the Bosch Climate 5000 Ductless Series is highly efficient. With Bosch Climate 5000 series, shorter service times are possible due to superior quality. SEER ratings of up to 25 can be achieved by the system's efficient technologies, which lower your electricity bill as a result.
The Bosch Climate 5000 Series includes two models, Regular and Max Performance, both suitable for use in single or multiple zones. Units are capable of being operated in one zone for Light Commercial.
The following features are Available with this system:
A Temperature range: -5°F to 5°F (approximately -20°C to -15°C); 100% heating capacity

Operating at whisper-quiet levels

Wall-mounted thermostat

All ODU models are equipped with built-in base pan heaters

Built-in condensate pumps in cassette and ducted IDUs

Residential warranties include 10 years for the compressor and 5 years for parts

Compatible with Bosch connected control Wi-Fi thermostats
Highlighted Benefits
An Inverter air conditioner offers a variety of benefits:
Rapid temperature rises via cooling and heating

Minimal Temperature fluctuations

Able to change the power output according to demand, increasing energy efficiency

Utilizes a DC inverter compressor and an exterior fan motor, enabling control of both the quantity and the flow of air

The system inverter's compressor does not peak at a high voltage, and its start-up current is much lower than that of a compressor without an inverter
High efficiency is achieved with Bosch's Climate 5000's DC Inverter technology. Modulators are air conditioners with a compressor and motor working in sync to produce cold or warm air. Both indoor and outdoor compressor fans have brushless DC motors. They are quiet and energy-saving, and they are economical.
Best In-Class Performance
Inverters off numerous advantages over AC units without them:
Achieve and maintain a constant temperature by cooling and heating quickly.

For energy efficiency, and to reduce compressor start-ups and shutdowns, the machine adjusts its output based on the demand

When possible, use the SEER-highest rate system to save energy

A DC inverter compressor and an exterior fan motor allow the machine to operate over a much wider range of air flow and volume.

Compressors with inverters operate with much lower start-up current than those without.
For quiet, efficient operation, Bosch Climate 5000 Heat Pump Systems are built from high-quality materials. Electricity, refrigeration, and condensate drain lines connect the indoor and outdoor units. It is virtually invisible and easy to install.
Bosch Climate 5000 Series Installation and Services
Our energy solutions are tailored to each home since no two are the same. Among our services are furnaces, water heaters, boilers, and air conditioners. We love BOSCH heat pumps, but you may also want to consider a Mitsubishi Zuba Heat Pump also.
Get a free quote from the best heat pump service contractors in Toronto, Etobicoke, Mississauga, Brampton, and all the GTA.