So many benefits for Toronto Homes with a Mitsubishi Heat Pump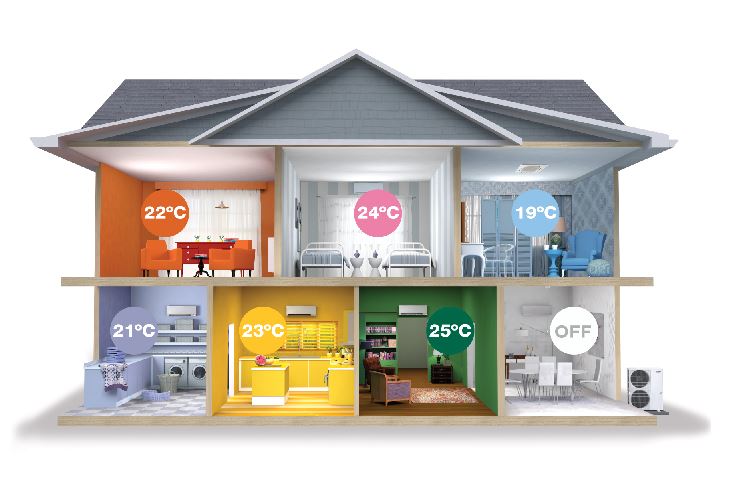 Do you have a need for Mitsubishi Heat Pumps that do single or multi zone heating? The Mitsubishi Electric Company is a leading manufacturer of HVAC systems for residential, commercial, and industrial properties. In order to develop air conditioners and heating systems that perform well in the wide range of climatic conditions found throughout Japan, the manufacturer challenges its engineers to develop incredibly complex yet highly durable systems that can be used under virtually any natural climatic condition. Each product has been designed to be quiet, energy-efficient, and have the least impact on the environment.
Choosing the right heating system for your home can be overwhelming. What is a better energy-efficient heating system? A heat pump or a wood stove? What's the difference between a wood burning or gas heated fireplace versus a heat pump? Would heat pumps be more economical to operate than gas central heating?
Heat pumps are recognized as one of the most efficient forms of heating, both by government agencies and consumer advocacy groups. Additionally, they offer features that other heating cannot, including dehumidification, air filtration, safety, and ease of use.
Efficient energy utilization
Heat pumps have been identified as one of the most energy efficient types of heating by governments worldwide as well as energy authorities. In other words, heat pumps do not create heat; they just move available heat from one location to another. They use little electricity, which is used mostly to run the compressor.
Cost-effective operation
A heating system that uses less energy will cost less to operate. It is true that a heat pump is initially more expensive than, say, a gas heater, but it saves on energy significantly over the long term.
Precision Comfort Control
Heat pumps offer heightened levels of comfort. Heat pumps circulate warm air through a fan, which means that heating is more even. With the removal of certain heating appliances, such as woodburners, one will feel much less heat and other appliances, like portable heaters, can only provide spot heating.
When the heat pump reaches the desired temperature, it keeps it there. There are cases when appliances continue to heat up, leading to an unbearably hot room - you may need to try adjusting the settings for the rest of the evening to keep it comfortable!
Simple and convenient
Heating devices should be easy to maintain, easy to use, and able to provide heat quickly. In this way, you will always be comfortable.
By replacing wood with heat, heat pumps eliminate the need for manual labour. In most cases, heat pumps are controlled by thermostats. This maintains your desired temperature. It does not need to be adjusted. The heat pump can do this automatically if necessary.
During chilly winter nights, come home to a warm house with a heat pump timer. The majority of heat pumps also come with a 24-hour or a 7-day timer. A schedule can be set so your unit automatically turns on and off according to your schedule. This will ensure complete comfort. If you're looking for the ultimate in comfort, consider Mitsubishi's Wi-Fi heat pump control. You can control your heat pump from anywhere you have an internet connection, so you will never have to return home cold again.
Improved Air Quality
One of the main benefits of a heat pump is that it filters the air you are heating, getting rid of nasty allergens.
Asthma and allergy sufferers who use heat pumps benefit from advanced air filtration systems that provide optimal air quality by filtering and deodorizing the air. Combined, these two processes can remove even the tiniest airborne particles and break them down.
In contrast to unflued gas heaters, heat pumps actually improve air quality while keeping you warm.
Unobtrusive Heating
Although it is important to select the right heat pump capacity for your home, many heat pump buyers take aesthetic factors into account as well. When it comes to choosing the right heat pump, choose a unit that is unobtrusive, quiet, and that can even match the décor in your home. The ever popular Wall Mounted (High Wall) range for multi-room systems comes in classic white, glossy black, or matt silver finishes; and the Mitsubishi Electric Designer Series for multi-room systems boasts sharp, modern lines. In floor mounted heat pumps, heat sources, such as fireplaces or night store heaters, are replaced discreetly at floor level. Ceiling mounted heat pump systems are also becoming more popular because of their unobtrusive design and versatility. Mitsubishi Electric recognizes that every home is unique, and as such, every home deserves a heat pump system that enhances, not disrupts the aesthetics of the home.
Moisture control
It is harmful to breathe toxic gases and excessive moisture from appliances like unflued gas heaters. If you do not have adequate ventilation, this can pose a danger to your health.
Airflow can help prevent excess moisture build up in homes, but specialist moisture control products such as the Mitsubishi Electric Lossnay Home Ventilation System or a Mitsubishi Electric Oasis dehumidifier may be needed to address specific moisture concerns or issues in homes.
A safe environment
Since heat pumps do not have flames or hot surfaces that children can touch and burn themselves, they are safer than gas burners and electric heaters.
Summer cooling
Heat pumps generate heat in a manner similar to how air conditioning provides cooling. The unit reverses the process to extract cool air from the outside and pump it indoors instead of extracting freely available heat. This is an added benefit when using heat pumps - it allows the home to remain cool and comfortable during those hot summer days!
Benefits to health
Warmer, dryer homes are better for our health. In fact, living in homes below 16°C can lead to respiratory illnesses and premature death. World Health Organizations recommend an indoor temperature of at least 18°C for healthy people and a temperature of 20°C for those at risk of respiratory illnesses, such as infants, the elderly, and young children. It is for these reasons that you should make sure that your home has adequate ventilation, heating, and insulation.
Environment Sustainability
Since heat pumps do not burn fuel to generate heat energy, they emit very little carbon dioxide, aside from the very small amount of electricity required to run the compressor. Comparatively, wood burners produce fumes, soot, and smoke, causing an enormous environmental burden by contributing to carbon emissions.
Considering a Mitsubishi Heat Pump? Read about Zuba Heat Pumps