Comfort with industry-leading efficiency.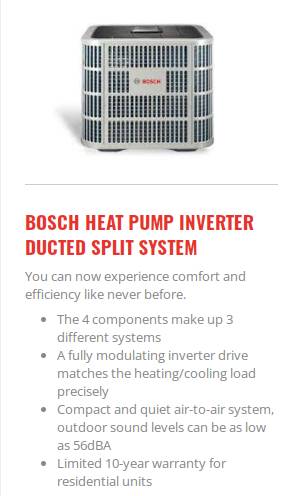 Put an end to Ontario's sky-high winter heating bills. Feel cozy and warm on those sub-zero days without breaking the bank.
With the Bosch Heat Pump Inverter Ducted Split System, Toronto homeowners can finally achieve the ultimate in climate control. Bosch heat pumps are designed for efficiency and innovation.
Bosch provides a quiet, comfortable home with quality engineering, a long warranty, and exceptional performance. Heat pumps provide precise temperature and humidity control to keep homeowners comfortable, whether they are heating or cooling.
Three different sizes of these high-efficiency, quiet, and robust Inverter Ducted Split systems heat pumps are available to suit any application need. With an inverter drive, the compressor increases or decreases speed as needed to suit comfort levels while maximizing energy efficiency and minimizing sound.
Features for these systems include:
3 systems from 4 components

Drive with full modulation to precisely match heating/cooling loads

As quiet as 56 dBA, one of the quietest and most compact air-0to-air systems

Limited 10-year warranty for residential properties
An Inverter-Driven Ducting System
The vanguard technology regulates heating and cooling outputs, eliminating continuous cycling. Instead, it uses long and slow running times to maintain the correct temperature in real time.
Variable compression speeds eliminate temperature swings between rooms. The output will be precisely what you need to maintain your desired temperature, rather than haphazardly pumping air.
A heat pump driven by an inverter is self-regulating. It keeps indoor temperatures uniform from room to room. Even when outdoor temperatures dip below freezing, cold spots, drafts, and hot spots disappear.
Bosch Heat Pump Inverter Ducted Split System Sizes
Heat pumps from Bosch come in four sizes, ranging from two to five tons. Three different types of systems are available:
IDS LIGHT 15 SEER SYSTEM
Enjoy the benefits of IDS Light's inverter at a great price! The BOVB18 outdoor unit is paired with our BVA15 PSC style air handler for a combined system that's more affordable.
IDS PLUS 18 SEER SYSTEM
IDS Plus offers the ideal balance between efficiency and comfort, without breaking the bank. A combination of the reliable and efficient BOVB18 outdoor unit and our outstanding BVA20 ECM-style two-stage air handler provides a superior performance system.
IDS PREMIUM 20 SEER SYSTEM
Get the largest rebates on energy, and cut your energy costs the most with IDS Premium. This system combines our top-level BOVA20 outdoor unit and our outstanding BVA20 two stage x13 ECM style air handler.
Bosch Heat Pump Inverter Ducted Split System Technology benefits
Comfortable Quietness
One of the quietest air-to-air heat pump systems on the market is the Bosch Inverter Ducted Split. With the use of silent blades, sound isolating mounts, and outdoor condensing section placement - this system enables outdoor sound levels as low as 56 dBA - the lowest on the market.
Stable Room Temperature
The temperature fluctuates a lot with conventional heat pumps because the pumps cycle on and off frequently. Heating systems with inverter-driven motors can self-adjust to provide a consistent room temperature, regardless of outdoor temperatures.
Rapid Response
As opposed to traditional systems, inverter systems provide faster, smoother and more energy-efficient heating and cooling due to their high compressor speeds.
Don't Use More Energy Than You Need
Modulating inverters only deliver the right amount of hot or cold air to achieve the desired temperature - no more, no less. Bosch's inverter ducted split provides maximum comfort at minimum cost.
Limited Residential Warranty
The residential limited warranty gives you peace of mind that you're covered for replacement parts for up to 10 years. Standard heat pump systems cover all components that are incorporated at the time of manufacture. Bosch offers a 1-year parts warranty for all components and parts that are purchased from it and installed in the field.
The Benefits of Zoning
A minisplit or multisplit heat pump is extremely versatile. You can use it to cool or heat a single room or your entire home. A single outdoor unit can deliver treated air to five indoor units.
In each zone, individual air handlers control the temperature. It is possible to heat or cool the specific areas that you use and maintain other zones at different temperatures.
Indoor units utilize a remote sensor to automatically adjust the temperature as people enter or exit a zone. In addition, the system includes a turbo feature that speeds up the heating or cooling process if you need it immediately.
Advanced Air Filtration System
Bosch's innovative multi-part filtration system traps dust, dust mites, pollen, microbes, and dander from the circulating air. Bluefin technology keeps moisture levels low and prevents mold and mildew from growing.
Installation is a Breeze
Bosch Heat Pump Inverter Ducted Split Systems are easy to install and can be installed almost anywhere. It eliminates messy renovations by eliminating ductwork.
We guarantee customer satisfaction. As specialist heat pump installers, we focus primarily on installing quality systems in customers' homes.
We offer ductless heat pump installation, maintenance, and repair services through heatpumps.ca. If you're looking for home heating services and want to learn more about the Bosch Heat Pump Inverter Ducted Split System, we'd be happy to assist you.
 ---
Related page: Heat Pumps Toronto