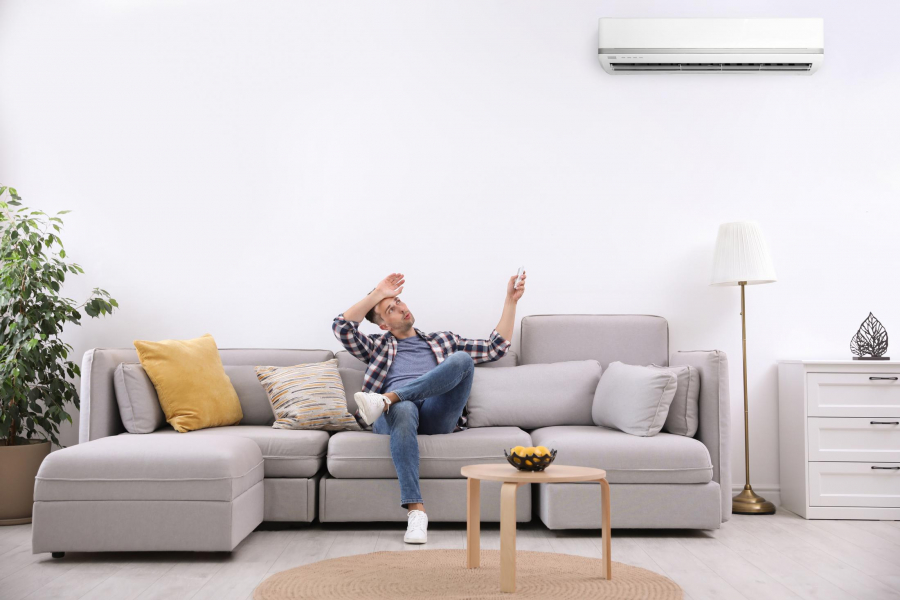 Combat Toronto's harsh winter and unpredictable weather with the Mitsubishi Electric Hyper-Heating H2I® system. Traditional heating options like oil, gas, and wood are often ill-suited for today's needs, leading to uneven heat distribution and annoying noise. Upgrade to our cutting-edge solution for reliable, efficient warmth all year round.
Mitsubishi Electric Hyper-Heating H2I®
Hyper-Heating H2I® is an extremely powerful source of heat generation, which can keep your home cozy at sub-zero temperatures as low as -13 degrees Fahrenheit. This is a stand-alone system that doesn't require any supplemental source of energy; however, you can also use it with the existing energy source installed at your home and office.
The hyper-heating system works 100% efficiently up to 23 degrees Fahrenheit. If the temperature plummets, the compressor will continue to provide heat at 76% operational efficiency until the outside temperature reaches -13 degrees Fahrenheit.
Before the introduction of H2i technology, there were no other ductless systems that could offer such a reliable performance. It also means that you can get rid of your energy-consuming and unfriendly fossil fuel burners. Instead, use the Hyper-Heating H2I® to reduce carbon footprint, get rid of the wiring clutter, and control every room at your home and office.
Benefits of Hyper-Heating H2I®
Hyper-Heating H2I® is designed to work in extremely cold climates when traditional heat pumps often fail to operate. Since the introduction of hyper heating by Mitsubishi Electric in 2007, the system has proved its mettle across the world under the most demanding circumstances.
Here is what makes the system so special:
It is an extremely powerful source of heat that can work efficiently at temperatures as low as -13 Fahrenheit.
The unit works both as an AC and as a heater.
You can install mini-split units inside each room and control the heat distribution based on individual requirements.
The Hyper-Heating H2I® technology reduces carbon footprint.
Inverter automation keeps electricity bills under control.
It is a ductless system, which keeps the house clutter-free.
The i-see sensor 3D technology can detect the location of humans to redirect airflow to certain areas as required.
In most circumstances, it takes less than 24 hours to install the entire unit.
You can get instant hot air at a moment's notice.
Types of Mitsubishi Electric Hyper-Heating H2I® Systems
Both homeowners and businesses can use the Hyper Heat technology to take advantage of the groundbreaking technology. Following is a brief insight into each system:
M-Series for Homes
P-Series for Light Commercial Buildings
R2 and Y Series for Commercial Infrastructure
M-Series for Homes and Residence
The M-Series hyper-heating inverter system is a great choice for homeowners who want full control of each living space in their homes. You can easily install indoor units inside a room, lounge, and basement. The inside units are connected to a single outdoor unit without a duct.
Depending on your choice, the MSZ-FH family comes in three different industry-leading efficiencies. Using any of these, homeowners can keep their homes warm in temperatures as low as -13 degrees Fahrenheit. The MSH-FH family operates at 100% efficiency until 5 degrees Fahrenheit.
M-Series integrates triple action filtration to keep inside air free of dust particles. Similarly, double-van is used for enhanced circulation. You can also opt for a multi-function wired wall-mounted or a wireless controller. The revolutionary i-see Sensor 3D will help regulate the airflow to different parts of the human body.
P-Series for Light Commercial Buildings
The P-Series offers a comprehensive and reliable heating solution to schools, churches, and offices. Its patented flash-injection technology and a responsive inverter help keep everything warm in the blistering Canadian winter. The compressor can work at 80% efficiency below 5 degrees Fahrenheit.
Mitsubishi Electric offers two options in this category. Both options and related systems qualify for tax credits where available. Depending on your preference, the installation choices are:
PKA wall-mounted ductless unit: The sleek design offers adjustable vane control. You can easily take out filters to wash them at your convenience.
PCA ceiling-suspended ductless unit: PCA is recommended for spacious rooms because it can offer four different airflow positions.
PEA(D) Horizontal ducted unit: This is a professional design, which offers a low-profile ceiling-concealed design.
PLA Ceiling-recessed cassette ductless unit: Used in tight spaces such as corridors and small rooms, it offers independent vane motor control. You can easily wash filters and use an optional i-sensor 3D kit.
R2 and Y Series for Commercial Infrastructure
Designed to give multi-zone comfort to any type of building, the R2 and Y Series can work at almost 85% efficiency at temperatures reaching -13 degrees Fahrenheit. The Y Series is known for its proven performance, whereas the newer R2 Series is offered in a 2-pipe configuration for more efficient operation.
According to Mitsubishi Electric, there is no other VRF system in the market that can simultaneously do both cooling and heating with just two pipes. The indoor unit can work with a variety of ductless and ducted units. Irrespective of the size of the building, anyone can easily operate individual indoor units.
The CITY MULTI network can also control the entire heating system. In this configuration, the CITY MULTI control network integrates with the building management system to provide a seamless centralized heating experience. In fact, building managers can also interlock additional third-party equipment to the CMCN network.
Hyper-Heat vs. Traditional Systems
To understand what makes Hyper-Heat so special, it is important to understand that heat pumps extract thermal energy from the outside and amplify it to circulate the warm air inside our homes. Even when it is below freezing, the outside air still has heat, which can be extracted to provide warmth inside a building. The Hyper-Heat system is special because it can extract thermal energy from the environment at extremely low temperatures.
Traditional heat pumps are not as effective as H2i because they can't operate at temperatures below 25 degrees Fahrenheit. When the temperature goes below zero, most of these heat pumps are unable to extract the existing thermal energy in the air. As a result, they often blow cold air as there is no thermal energy to process.
In contrast, Mitsubishi Electric Hyper-Heating H2I® can extract thermal energy from the outside at temperatures that are as low as -13 degrees Fahrenheit. Compared to traditional heat pumps, these systems are also energy-efficient, easy to install, and allow users to control the temperature in multiple rooms.
Sometimes, Fujitsu Halycon Xth Low-Temperature system is cited as a competitor to Hyper-Heating H2I®. While Fujitsu may be good, the presence of a base heater can damage its compressor at temperatures below 36 degrees Fahrenheit.
Mitsubishi Electric Hyper-Heating H2I® is a groundbreaking technology that is pushing the boundaries of human imagination. Despite its early days, the technology is ready to define the future of heat pumps.
---
If you're looking for a reliable and long-lasting heat pump, contact HeatPumps.ca. Our track record of faithful operation and longevity is a testament to our commitment to quality. Additionally, be sure to check out our heat pump rebates and incentives to save even more money.