Ductless Heat Pumps, Ductless Air Conditioning & Fitting Your Infrastructure
Integrated Ductless systems provide climate control solutions. And healthy cooling spaces that are perfect for homes.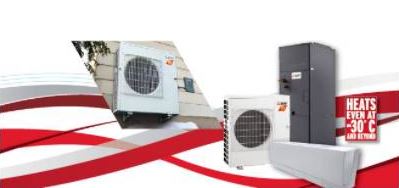 Did you know that you could integrate ductless systems that use less energy? And still have climate control for your home. Thanks to mini-split air conditioning.
A mini-split system installation is quick (minimal equipment and easy installation), easy, and cost-effective compared to a ductwork infrastructure.
A ductless system is a good choice for home comfort and air quality, along with the cost and space savings it presents.
Why should I consider an integrated ductless system for my basement remodel?
It's easy to install a mini-split system that will heat or cool your attic or basement. 
Homeowners who convert their garages or basements into a living space, home office, or a spare bedroom can benefit from integrated ductless systems. Installing ductwork in awkward wall placements and pitched ceilings is more complicated and expensive. But a mini-split system is a cost-effective and simpler option.
A mini-split system gives you full access to the controls to manage the temperatures and a separate thermostat.
Ductless Air Conditioner Installation in Toronto
Ductless air conditioning heats up and cools down, without extra installations. And you can install mini-split systems without having to open your walls. 
Ductless systems are suited for providing air conditioning to single rooms. Heat pumps and ductless A/C are perfect for the heating or cooling of smaller spaces. The heatpumps.ca can provide a zoning solution. 
A renovation is required when you consider the traditional ducted route. But the ductless system allows you to prevent construction. And benefit more from advanced technology. 
Ductless is beneficial. In a new build house, major systems and overhauls are acceptable, because of all the mess and construction. And retrofitting is cost-effective, and also causes disruption. The ductless system is most recommended.  
Why HVAC Professionals Want You to Go Both Ductless AND Ducted
Ducted and ductless indoor units combine to provide comfort, compatibility - even on a budget. 
Installation is hassle free and inexpensive  
A ductless system decreases your need for new equipment, and in turn, installation and labor costs. 
Replacing your central air replaced with a multi-position ducted system gives you the benefits and comfort from newer technologies. Combining ductless and ducted indoor units means you don't have to replace your HVAC infrastructure. 
Easy room accommodation 
A multi-position air handler is designed for almost any available space. This unit can fit tight openings and small spaces such as attics, closets and equipment rooms. The types of renovations such as basements and bonus rooms often don't have space for ductwork. But choosing the flexible system enables you to install compact ductless units.
Control the comfort
Zoned systems divide personal climate control for that comfort solution in every family. A separate thermostat lets you change the temperature in your own space without affecting the temperature in the other room. 
The air handlers in each zone automatically adjust the temperature by measuring the return air. 
Zoned systems ensure that your energy isn't wasted. But rather lowering operating costs. A combination of ducted and ductless units allows you an advanced and personalized comfortable home.
The heatpumps.ca can assist with all your ducted heat pumps and air conditioning needs. Get in touch with us today for a free consultation.