FALL SALE @ Heatpumps.ca
Claim Your FREE Ecobee Smart Thermostat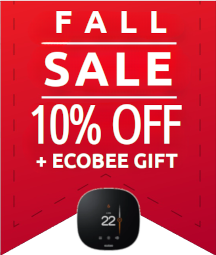 Book your installation for a ducted heat pump system with heatpumps.ca today and enjoy a 10% discount, along with a complimentary Ecobee Smart Thermostat. This remarkable offer allows you to maximize energy efficiency, comfort, and convenience all at once.
With advanced occupancy sensing technology, Ecobee Thermostats can help you save up to 26%* on your annual heating and cooling costs by ensuring that you only heat or cool your home when it's occupied. You can now enjoy both the benefits of an energy-saving thermostat and the comfort of your home at any time.
The Ecobee Smart Thermostat is thoughtfully designed to provide you with optimal comfort, both at home and when you're away. SmartSensors detect which rooms are in use and adjust the temperature to your liking. Additionally, when you leave the house, the thermostat will adjust to energy-saving mode, ensuring that you don't waste energy heating or cooling an empty home.
Determine the best fit of your home.
Ecobee Smart Thermostats are meticulously crafted to offer you the utmost comfort in your home, with the added convenience of being able to control them from anywhere.
Alerts that deserve your attention.
Stay on top of your home's well-being even when you're not there by being notified of events such as sudden temperature drops or spikes that could cause damage to your home.
Count on the Ecobee Smart Thermostat quality.
Hardwired so you never have to worry about losing control of your thermostat or replacing batteries, and is backed by an industry-leading 3-year warranty.
Multifunctional monitoring.
Ecobee is the only home security option in which your smart thermostat functions as a hub to monitor, detect, and alert you to unusual activity. 
When the home is unoccupied, the thermometer automatically reduces the temperature.
It learns your routine and makes suggestions for modifications to your thermostat routine for optimum energy savings.
Reduces the dependency on the electricity network and provides incentives from your energy supplier.
Get ready to enjoy the perks of a brand new heat pump and a complimentary Ecobee Smart Thermostat. Schedule your installation with heatpumps.ca today and enjoy this limited-time offer.