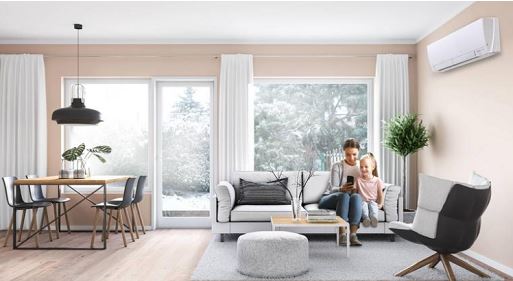 Is it time to replace your heat pumps Brampton residents? Is your current unit in need of repair? A tune-up could be all you need to get your heat pump system running smoothly again. Whatever you need, our team of expert technicians are at your service. Keeping your home cool is our specialty, and all of our services are backed by a warranty and 100% satisfaction guarantee.
Heat pump systems might be a great option if you want to reduce your home energy bills in Brampton or heat and cool your home. In Canada, heat pumps are a proven and reliable technology that provides energy-efficient heating and cooling throughout the year, as well as hot water for your home.
Heat pumps can be used in a broad range of applications, including both new construction and retrofits for existing heating and cooling systems. The move from a cooling-only system to a heat pump can also be quite cost-effective when replacing existing air conditioning systems. The wide variety of options available for heat pumps makes it challenging to decide which is the best choice for your home.
If you are considering a heat pump, you likely have several questions, including:
Are there different types of heat pumps?
Can a heat pump handle all of my heating and cooling needs?
Which heat pump size is right for my home?
How much are heat pumps compared to other systems, and how much do I stand to save?
Will I need to make any additional changes to my house?
How much maintenance does the system require?
Why Heat Pumps Brampton?
Your utility bills can be greatly reduced by heating and cooling with a heat pump. Considering your home as a system, minimizing heat loss from places like air leakage (through cracks, holes), poorly insulated walls, ceilings, windows and doors is important.
By using a smaller heat pump, you can reduce equipment costs and ensure that your system operates more efficiently.
The Natural Resources Canada website offers several publications that explain how to do this.
Heating is achieved by burning a fuel such as natural gas or heating oil to add heat to the air. While efficiency has continually improved, it remains below 100%, meaning that not all of the available energy from combustion is used to heat the air.
A heat pump works differently. In a heat pump, electrical energy is used to transfer heat between two locations. The heat pump can operate more efficiently, and it's usually over 100% efficient, meaning it produces more thermal energy than it uses to pump it.
A heat pump's efficiency is affected by the temperature of its source and sink. Heat pumps must be sized correctly to maximize their seasonal efficiencies.
How to choose the right size heat pump for your Brampton home
When a system isn't balanced, it can't replenish the energy it draws from the borefield. It will perform worse and worse over time because the heat pump can no longer extract heat.
The heating system should be sized so it covers most of the household's annual heating needs. You can meet the occasional peak heating load during severe weather conditions using a supplementary heating system.
Fans and compressors can now be operated at variable speeds. All cooling loads and most heating loads can be met by this system at low speed, with high speed only required for high heating loads.
Systems of different sizes are available to fit the Canadian climate. These residential units range from 1.8 kW to 21.1 kW (6 000 to 72 000 Btu/h) in rated size and offer domestic hot water options.
Looking for a Mitsubishi Heat Pump?
Standardization, Certification, and Rating Scales
The Canadian Standards Association (CSA) tests all heat pumps for electrical safety. Standard performance tests and conditions for measuring heat pump capacity and efficiency are specified in heat pump performance standards. Ground-source systems are tested to CSA C13256 (for secondary loop systems) and CSA C748 (for DX systems).
Request a tune-up
The summer season can be challenging for older and low-performing systems. Getting your air conditioner tuned up for summer will keep your family cool. With a 21-point spring and summer heat pump safety check and tune-up, we ensure your heat pump remains safe and efficient all summer long. Checks and inspections are tailored to meet summer demands. Checks and inspections help:
Conserve money by reducing utility bills
Increase the life of the HVAC system
Prevent breakdowns
Improve efficiency
Here are the items our expert technicians will inspect during our 21-Point Check:
WB Return Air
Return Air DB
DB Supply Air
Delta T
Flow Rate of Condensate Drain
Blower Amp
Capacitor Test
Furnace Voltage
Board Voltage
Condition of Condenser Coil
Evaporative Coil Inspection
Furnace safety checks
Calculating the superheat
Flow from Indoor Coils
Ignition System
Furnace Disconnect
Pressurized Valves
Recalibrating Gauges
Pressure/Temperature on Fluid Lines
OD Connectors
Fan and compressor amps
We work with you to develop a solution that meets your budget, comfort, and convenience needs. This package includes surface cleaning, a furnace inspection, and standard filters.
Installation of Heat Pumps Brampton
Contact us for your free system replacement consultation. 
Whether you have questions about our products or services, our certified technicians are available to help. Let's determine together which system or service is right for your home and budget. You can schedule a visit with our team at any time convenient for you.  Services will have a minimal impact on your day.