Do you need heat pumps in Niagara in the winter?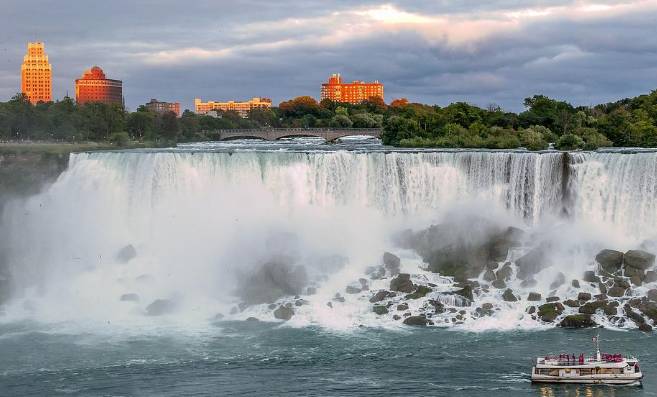 With the average daytime temperatures in the Niagara Region reaching 28°F, and lows of 14 °F, ductless Heat Pumps Niagara are an energy-efficient way to heat, or cool your home.
Heatpumps.ca can supply all your home's heating and cooling needs, by installing an environmentally friendly, and cost effective, ductless heat pump in your home in the Niagara Region.
Our heat pumps for Niagara homes feature a single system that can be controlled from the comfort of your warm and comfortable couch.
Heat Pumps for Niagara Homes
Is there a rebate for heat pumps in Ontario? With the government of Ontario offering substantial rebates for more energy efficient homes, heat pumps for Niagara homes seems to be the prudent choice for Niagara homeowners.
Electric Heat pumps in Niagara are not just able to warm up your home, they are also used to efficiently cool on warm summer days. Do heat pumps use a lot of electricity? Compared to standard heating systems like gas furnaces, your energy bill will be lower and your carbon footprint smaller.
How do Heat Pumps in Niagara Homes work? 
To regulate the temperature in your home, Niagara home heat pumps utilize an air handler that  
Heat pumps work with an air handler, which circulates and distributes air to every part of your home. Although the air handler resembles a furnace, heat is not produced by burning fossil fuel. Some heat pumps in Niagara homes may have an electrically powered back-up cooling, or heating part.
Heatpumps.ca is your Niagara Heat Pump specialists for any heat pump repair or service. We have the best TSSA certified HVAC techs just waiting for your call. Our installations are all ESA inspected.
Maintaining Your Heat Pump in Niagara
The United States Department of Energy reports that a faulty and unmaintained heat pump can use up to 25% more energy, and the risk of premature failures are also significantly increased. 
What Do You Do When Your Heat Pump Does not Work Properly? 
Here are a few basic troubleshooting steps that Heatpumps.ca put together for malfunctioning heat pumps in Niagara homes:
No heat - Make sure your thermostat settings are correct.

Check if a circuit breaker hasn't tripped.
Check if your thermostat is installed correctly.

Insufficient heat

Grimy filters, fans and coils can decrease airflow and harm your system.
Blocked air ducts, faulty valves
Poor refrigeration flow.

Only cold air - Check your air handler, thermostat or outside unit.

Check if system is on defrost mode
Faulty defrost timer/control module

Switches on and off

Air filter or thermostat (check the batteries)
Temperature below 30°F.

Unnatural noises

Tighten cover panels
Any grinding noise could be serious, call our 24 hour emergency service.
Should I Replace or Repair My Heat Pump?
Occasionally your heat pump in Niagara might need a costly repair out of the warranty period. If it is dated, it could be the perfect opportunity to upgrade your heat pump system in The Region of Niagara.
How do you know when to replace your heat pump in Niagara? Here is a list of warning signs:
It does not heat or cool as it should
You are constantly having it repaired
Your thermostat levels are low, but your energy bill is sky high
It is older than ten years
Our service department will gladly assist with repairs or replacement of your unit.
----
Niagara heat pump image c/o Pixabay